When it comes to ensuring the reliability of components, devices and systems under typical environmental conditions, a standard temperature test is often insufficient. Many test specimens must be subjected to multiple, abrupt temperature shock changes. The Weiss Technik ShockEvent is a temperature shock test chamber that will help achieve extremely rapid temperature changes in the range -80°C to +220°C. This reduces the incidence of early failures and increases the reliability of your products.
WEISS TECHNIK SHOCKEVENT CHAMBERS ALSO BENEFIT FROM A NUMBER OF UNIQUE FEATURES, PRESENTED HERE BY OUR EXPERT BUSINESS DEVELOPMENT TEAM.
Find out more or get in contact
Weiss Technik are a market leading environmental test chamber manufacturer. The UK team are on hand to help you find a solution for your business from our wide range of climatic test chambers and environmental simulation systems. You can download our product range brochures from Multimedia Center. All Weiss Technik environmental test chambers have possibility to use our innovative WEBSeason® user interface that allows you to program, control and monitor your tests within the chamber for ease of use. Our unique S!MPATI® software is also available to install. Installation and operating manuals for both software programs can also be found in the Multimedia Center.
If you need more assistance in finding a solution for your business, get in contact with us via our Contact Form, or you can call on 01509 631595 or email the team on enquiries.gb@weiss-technik.com.
We also offer OEM environmental test chamber servicing, calibration and maintenance from our UK-based service team. Find out more about service and maintenance contracts. For immediate shipping on test chambers and cabinets, take a look at our in-stock environmental simulation chambers.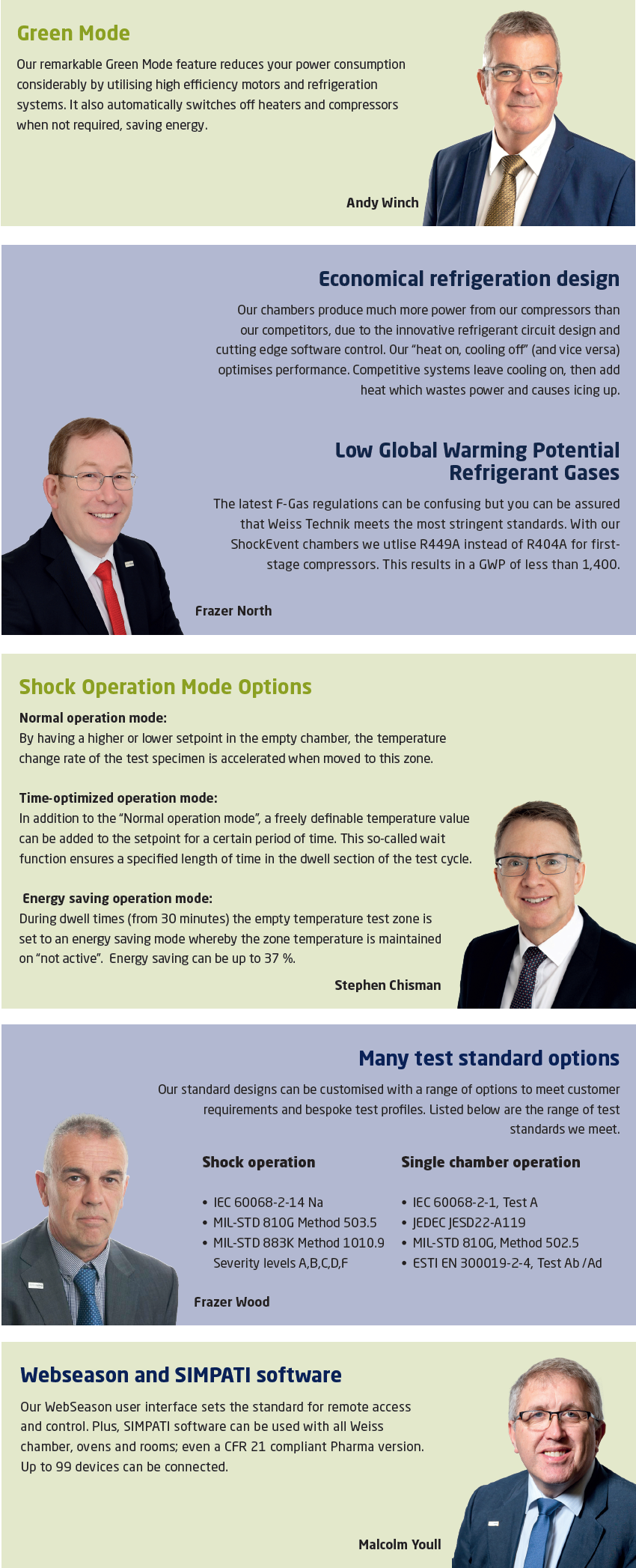 The Weiss Technik UK team are at your service. Our sales specialists will guide you through the specification process to ensure your needs are fully met. They will oversee the installation of your new chamber and also advise you on the best service options to keep your chamber fully optimised.

Would you like to learn more? Here are your options:
Call Weiss Technik UK now on 01509 631595 and speak with the technical sales team or email: karina.engel@weiss-technik.com
For details of our industry-leading Service packages, call 01509 631590 or email richard.fleming@weiss-technik.com