Rumbol is a British family manufacturing business based in Clydebank specialising in the production of ruminant boluses. The Rumbol product was developed by the late Dr Norman Ritchie and his colleagues at University of Glasgow to improve the ruminant nutrition of cattle worldwide.
Unfortunately, the company suffered a disastorous fire in Oct 2019 resulting in the complete destruction of the factory and all of its machinery. This included the old faithful Vötsch climate test chamber, supplied around 10 years ago by the Weiss group.
12 months later, in new premises and despite a Pandemic thrown into the mix, Rumbol is almost ready to swing back into full production, having rebuilt with all new machinery and a new Climatic Test Chamber from Weiss Technik.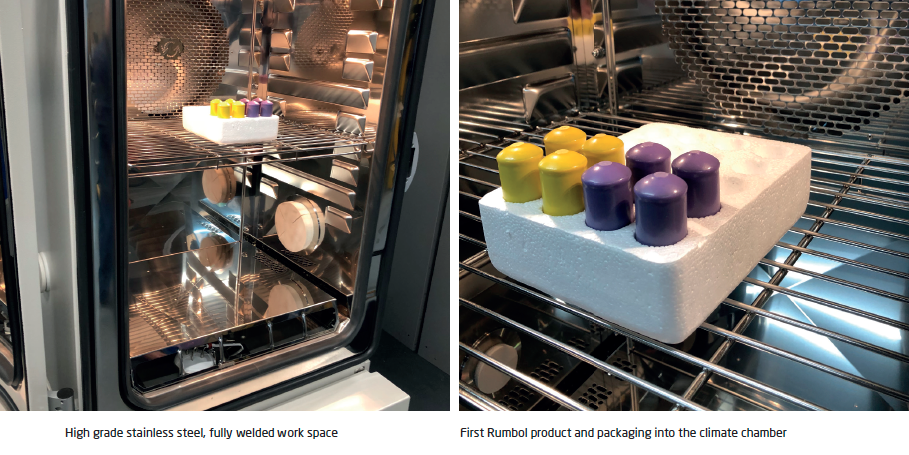 Following detailed discussions during the national lockdown, (the power of online meetings!) with regards to determining what Rumbol required from its chamber; which includes product stability testing, packaging and product testing along with cyclic simulated transport testing; Rumbol selected the ClimeEvent C/180/0 chamber.
The new chamber is capable of meeting all of Rumbol's critical test requirements, having temperature extremes of -10°C to +180°C and an extended low-humidity range with the use of an optional Air Drier system.
General Manager, Glen Dove stated, "It was a simple decision to choose Weiss Technik to supply the new chamber. We looked at other chambers but it was clear that the Weiss
Technik offering was superior. The previous unit that was destroyed in the fire served us well and we were very happy with the service provided by the Weiss Technik UK specialist
service team. Having the additional 3 years warranty with a service contract will give us piece of mind in the future. Rumbol can show our customers that stability testing has
been carried out accurately and reliably."
Douglas Bell, Research and Technical, commented, "Weiss's technical specialist Frazer North provided us with considerable support and assistance in the decision-making process. He
explained the options and the technical features of the new ClimeEvent range, as well as guiding us with the requirements for installation. The new chamber will increase our test
volumes and give us more flexibility with regards to the testing procedures we may need to undertake in the future."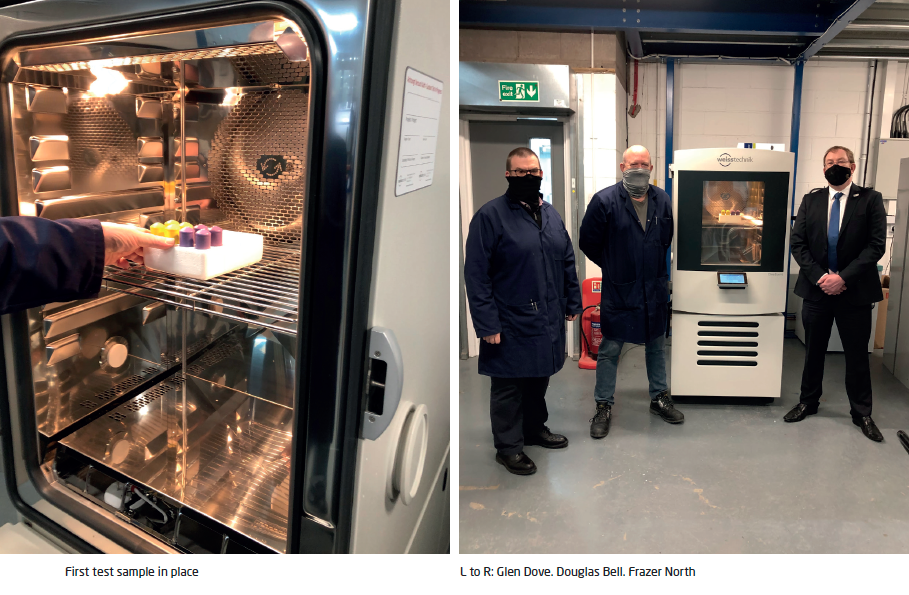 Commissioning of the new chamber was completed on Friday 30th October 2020 by Weiss Technik UK Service Engineer Christian Williamson.
For further information, please contact Weiss Technik UK. Call 01509 361595.